47 photos | 24:32
New model Jenna J. Foxx makes her debut in: Big Black Cock Babe. Jenna is the shy quiet type, but that doesn't mean her dick is shy. She is a girl that loves to stroke, jerk, and cum. She is in the bathroom relaxing when she decides that she should just rub one out. She strokes her choad gently and tit fucks herself until her dick explodes with cum goodness all over the place!

Added 3rd Oct 2019

56 photos | 25:28
Juliette March meets up with her long lost sister! Sinn Sage is really excited to meet her newly found step-sister and she's even more surprised that they both have big dicks. Juliette is coy and shy about her giant dong but Sinn shows her that there is nothing to be demure about. She stuffs Juliette's mouth with her two cocks and fills up her pussy with her hardon. Juliette likes it so much that she cums while being rammed. Then she unleashes her balls full of cum all over Sinn's big, bubbly ass!

Added 26th Sep 2019

49 photos | 25:41
Jeze Belle seduces pious nuns Bella and Juliette! Jeze Belle comes to the two sisters to confess that she has an insatiable appetite for sex. Juliette is very upset by the news and she leaves from disgust. Bella understands Jeze Belle's problems and she reveals that she too is a closet slutbag. The two dick girls lust for one another, sucking each other's dicks and Bella penetrates Jeze Belle's pussy with her hard cock. Juliette walks in and sees what's going on and the other two girls undress her to find that she's also hiding a giant secret under her frock. They give her exactly what's she's been needing, and that's a deep fucking with Jeze Belle's extra long serpent cock. Juliette bounces up and down on Bella's cock until she releases all the pent up cum from her throbbing balls. Bella unloads her holy load all over Jeze Belle's face and tits. Then Jeze Belle uses her firehose cock to cover the two nuns in her hot jizz.

Added 19th Sep 2019

93 photos | 10:10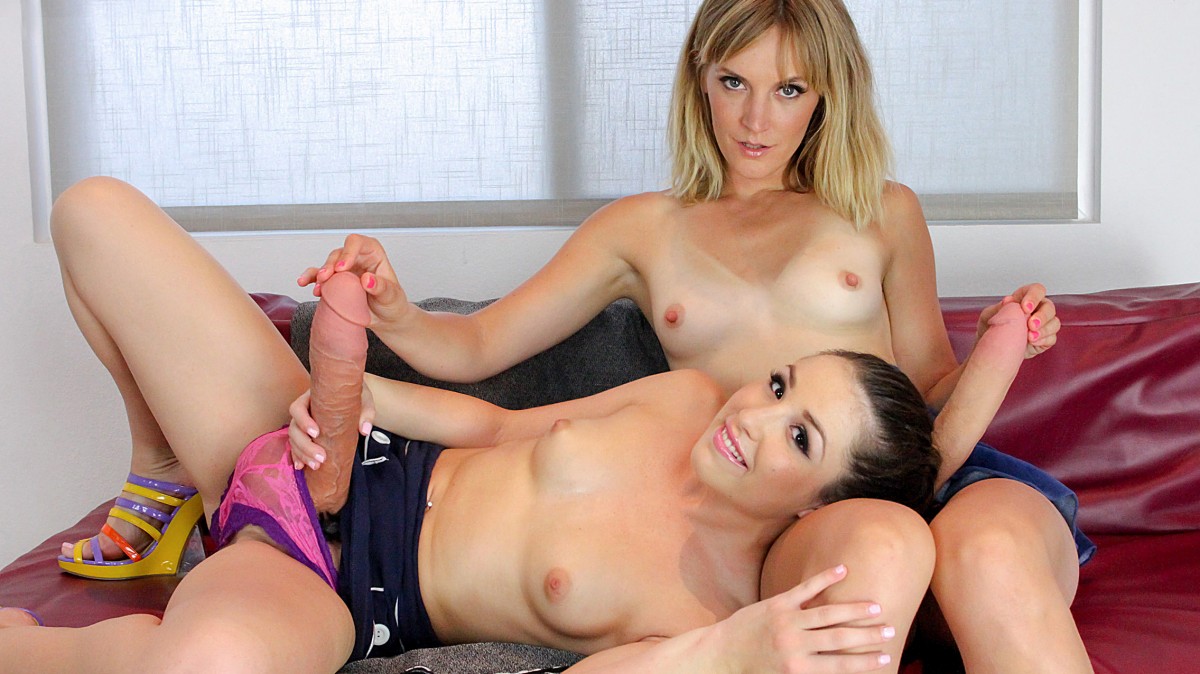 Lola and Mona Wales have a little disagreement on who the fittest dick dame is in: Roommate Rod Rivalry. Mona Wales patronizes Lola for being too young and inexperienced while Lola feels like Mona Wales is no longer a spring chicken. The settle it the best way that either knows how... a dick duel! They stroke each other's shafts trying to see who blows first. Lola starts sucking on Mona Wales's sausage and then they 69 one another. Mona Wales's experience is too much for Lola and she starts erupting in cum first. To the victor gives the facial. Mona Wales drenches Lola's face in her victory jizz.

Added 12th Sep 2019

56 photos | 11:52
New model Ariel X makes her debut in: Perverted Masturbating Mom. She is a horny hot milf that tries to appeal to her daughter, but when she gets disrespected, she decides that she must do what any good mom would do: Jack off and cum all over her daughter's bedroom while she's out with friends. Ariel X has so much cum in her that she nuts all over herself over and over and over again. She even sends a selfie of herself all jizzed on to her daughter!

Added 5th Sep 2019

49 photos | 17:59
Ella Nova and Mia Li are helpful hoes! They two horny hotties are hosting a jack off support group to show people how to jack off and bust a nut properly. They eagerly show you how to stroke off yourself as well as others. They also show you how to edge yourself so that you train yourself not to cum right away. They take turns showing you how to properly give and receive a huge facial.

Added 29th Aug 2019