93 photos | 10:10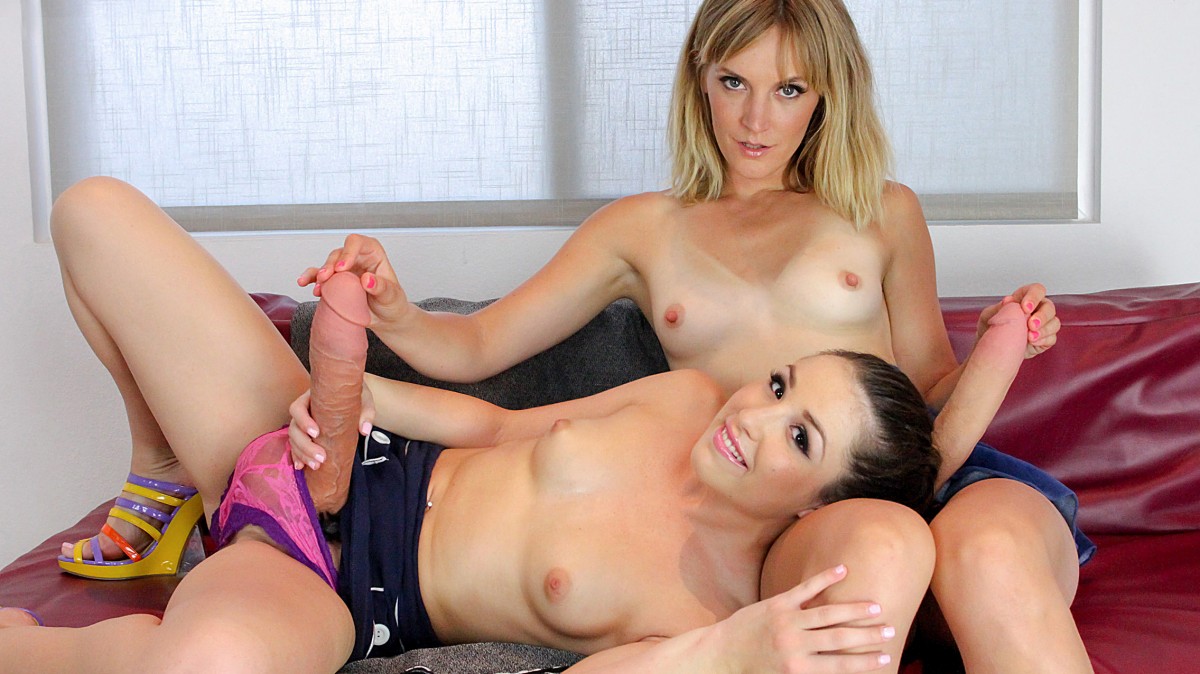 Lola and Mona Wales have a little disagreement on who the fittest dick dame is in: Roommate Rod Rivalry. Mona Wales patronizes Lola for being too young and inexperienced while Lola feels like Mona Wales is no longer a spring chicken. The settle it the best way that either knows how... a dick duel! They stroke each other's shafts trying to see who blows first. Lola starts sucking on Mona Wales's sausage and then they 69 one another. Mona Wales's experience is too much for Lola and she starts erupting in cum first. To the victor gives the facial. Mona Wales drenches Lola's face in her victory jizz.

Added 12th Sep 2019

56 photos | 11:52
New model Ariel X makes her debut in: Perverted Masturbating Mom. She is a horny hot milf that tries to appeal to her daughter, but when she gets disrespected, she decides that she must do what any good mom would do: Jack off and cum all over her daughter's bedroom while she's out with friends. Ariel X has so much cum in her that she nuts all over herself over and over and over again. She even sends a selfie of herself all jizzed on to her daughter!

Added 5th Sep 2019

49 photos | 17:59
Ella Nova and Mia Li are helpful hoes! They two horny hotties are hosting a jack off support group to show people how to jack off and bust a nut properly. They eagerly show you how to stroke off yourself as well as others. They also show you how to edge yourself so that you train yourself not to cum right away. They take turns showing you how to properly give and receive a huge facial.

Added 29th Aug 2019

59 photos | 24:33
Abby Cross and Nikki Delano meet off of an online dating site! The two girls meet at a bar and notice each other's giant cocks right away. They make small talk but they both know what is on the each other's mind. They get down and dirty right away. They compare rub down each other's equally impressive cocks and wag them back and forth while dancing. Abby rubs her hard serpent dong into Nikki's butt cheeks until she cums into their cocktail glasses. Nikki takes giant swigs of the hot, juicy cum and spits it back onto her cock. Then Abby gets onto her knees and strokes Nikki's cock until she spews a mountain of jizz into her face. She gets entirely glazed in Nikki's cum!

Added 22nd Aug 2019

91 photos | 15:46
The three girls are in bed together and what better thing to do than to suck and fuck each other? They take turns swallowing each other's cocks. Then give each other blowjobs in a circle suck. Sinn Sage stuffs her big hard meat sword into Sovereign's vagina from behind while Amber Chase watches and strokes herself. Then, Sovereign gets on her back, spreads her legs wide so that Sinn can plunge her cock into her gaping snatch missionary style. Sinn blows her load all over Amber's face and turns her around and fucks her doggy while Cathy unloads her sperm all into Amber's mouth.

Added 15th Aug 2019

88 photos | 22:21
Mia Li, Daisy Ducati and Mona Wales dress up as horny jack rabbits! They role play as furries that just want to fuck. They take turns sucking each other's cocks two on one and in a three way suck off. Mona Wales shoves her cock into Daisy's vagina to see how far down the rabbit's hole she can go. Then it's Mia's turn to give Daisy's hole a try. She fucks Daisy so good that she starts cumming all over Mia's chest. Wanting to get in on the action, Mona Wales take's Mia's long cock as she sucks Daisy's wang. Mona Wales's tight pussy makes Mia cum everywhere! Finally Mia takes a ride on Mona Wales's sausage until Mona Wales jizzes all over the other two sex bunny's asses.

Added 8th Aug 2019